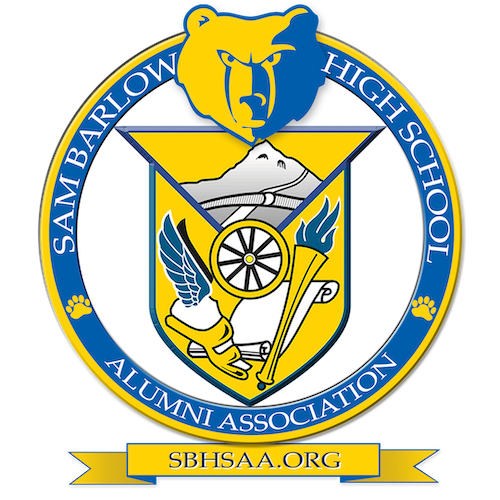 OUR ALMA MATER
Hail to thee, Sam Barlow High,
Hail the Blue and Gold.
We will lift your Banner skyward,
Honor to uphold.
We will faithful be to you,
To your colors always true.
Hail mighty Blue and Gold,
All Hail, Bruins, Hail.
DID YOU KNOW that Barlow's Alma Mater was composed by our first choir director, J. Robert Barber?
Mr. Barber inspired countless students during his tenure at Barlow, always spurring his students on to greatness. His standards were often staggeringly high, yet it was his insistence on those high standards that motivated his students to do their absolute best.

Years later, his former students thanked him for his insistence that they do their very best. In 2010 many of his former students gathered to honor him with a Choir Reunion.
A committee was formed, and many of those students contributed and flew him back to Oregon from his retirement home in Arkansas, to let him know the impact he had on their lives. Mr. Barber passed away less than a year after this two-day 2010 celebration.
Click on the clip below to see and hear some of Mr. Barber's former students sing the Barlow Alma Mater during that unforgettable Barlow Choir Reunion in 2010.
[NOTE: Depending on your browser,
the video might simply download to your computer.
Check your DOWNLOADS folder.]