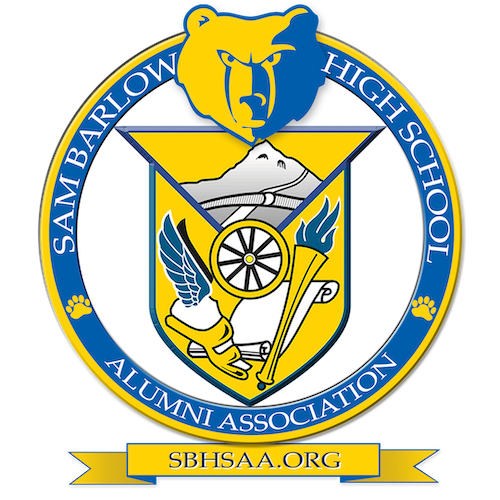 THE SAM BARLOW HIGH SCHOOL
ALUMNI ASSOCIATION
ANNOUNCEMENT LETTER
May 20, 2019
To: ALL GRADUATES & FRIENDS OF SAM BARLOW HIGH SCHOOL
From: SBHSAA Directors
Dear Barlow Supporter,
After last year's anniversary celebration, many members of the Barlow50 Committee realized we wanted to have a long-term impact on Barlow. The 50th anniversary celebration revealed a groundswell of support among alumni who want to champion our alma mater in a tangible way. So, we are excited to announce the creation of the Sam Barlow High School Alumni Association - SBHSAA!
Many hours of work have taken place this year, with the goal of creating a non-profit organization. Little did we know the multiple steps and paperwork required! But the task is now complete!
As noted in our Mission Statement at the top of the page, we have organized SBHSAA to support Sam Barlow High School staff and students. An integral part of that mission will be in the form of Scholarships, awarded to deserving Barlow seniors each year. We are currently working on scholarship criteria, as well as the application process. Our immediate goal is to fund a substantial scholarship to at least one deserving senior in the spring of 2020.
In order to offer scholarships, we need to fundraise. To that end, we are planning our first Scholarship fundraiser this fall! The first HIT THE BARLOW TRAIL 5K & Kid's Fun Run is being planned for November 9th at the Barlow campus. We are looking for volunteers to help with the run! If you are interested, please CLICK HERE and submit your name and interest.
Now for more good news! We're planning two meet-n-greet functions at Barlow's new stadium. We'll have a tent set up at these two football games this fall:
Before the first-ever HOME game in the NEW STADIUM, September 6th.
Before our first-ever HOMECOMING game in the NEW STADIUM (October 4, vs. Grant)! We are working with the school to make this a true homecoming event; we'll have an alumni reserved section. Break out your blue and gold gear because, you know... Once a Bruin, Always a Bruin!
At both events, we'll have information about SBHSAA and the Hit the Barlow Trail Run (and more!), so be sure to stop by and see us. Mark your calendar right now!
As the new stadium is being constructed and the remodel of the building is continuing, we want to be sure that you are kept informed of the SBHSAA activities! Check our website at www.SBHSAA.org for updates and information.
All Hail, Bruins, Hail!
The Sam Barlow High School Alumni Association Board of Directors:
Nicki Hudson '76, President
Diane Deatherage '70, Vice President
Matt Norquist '77, Secretary
Barb Decious '70, & Lori Engdall '76, Co-Treasurers
Linda Meade '72
Carol Hardin '72
Amber Schroeder '97
We want to hear from YOU! Email us at This email address is being protected from spambots. You need JavaScript enabled to view it., and be sure to join our FACEBOOK PAGE.